The Modernizing Ontario's Municipal Legislation Act of 2017, often referred to simply as "Bill 68," received Royal Assent on May 30, 2017. Coming into force in phases, Bill 68 amends three primary pieces of legislation — the Municipal Act (2001), the City of Toronto Act (2006) and the Municipal Conflict of Interest Act — as well as several other acts. Fundamentally, Bill 68 has a trio of core goals: enhancing municipal accountability and transparency; promoting municipal financial sustainability; and helping ensure responsive and flexible municipal governments.
While the extensive bill addresses topics ranging from climate change and environmental conservation to land use and taxation, two sections are of particular significance to those responsible for managing municipal meetings: new rules regarding conflicts of interest, and new restrictions on remote, electronic member participation in meetings.
As always, eScribe has stayed on top of these developments to ensure our Ontario municipal customers can easily comply with these changes. While the electronic participation updates came into force January 1, 2018, at the time of this writing the new conflict of interest rules are imminent, coming into force March 1, 2019. That puts the pecuniary interest considerations front-of-mind for most municipalities, so we will explore these changes first.
Conflict of Interest Reporting
Bill 68 introduces multiple changes to the Municipal Conflict of Interest Act to reinforce the importance of integrity, independence and accountability in local government decision-making. While council members were always required to disclose pecuniary interests at municipal meetings, the new rules require the member to file a written statement of the interest and its general nature.
Increase Demand for Transparency
Bill 68 also adds the requirement that — in addition to recording declared pecuniary interests in the minutes of the meeting at which they were disclosed — every municipality and local board must establish and maintain a publicly-viewable registry of these written statements and declarations. This facilitates greater transparency, with citizens able to more easily learn of any members' conflicts of interest.
Of course, the easiest way for municipalities to meet these new requirements is if their meeting management solution takes care of it all for them — allowing councilors to submit written declarations and automatically publishing them to a registry on the municipality's public website.
How eScribe is Addressing the Change
At eScribe, we have enhanced and expanded our comprehensive meeting management platform's built-in Conflict of Interest functionality to do exactly that.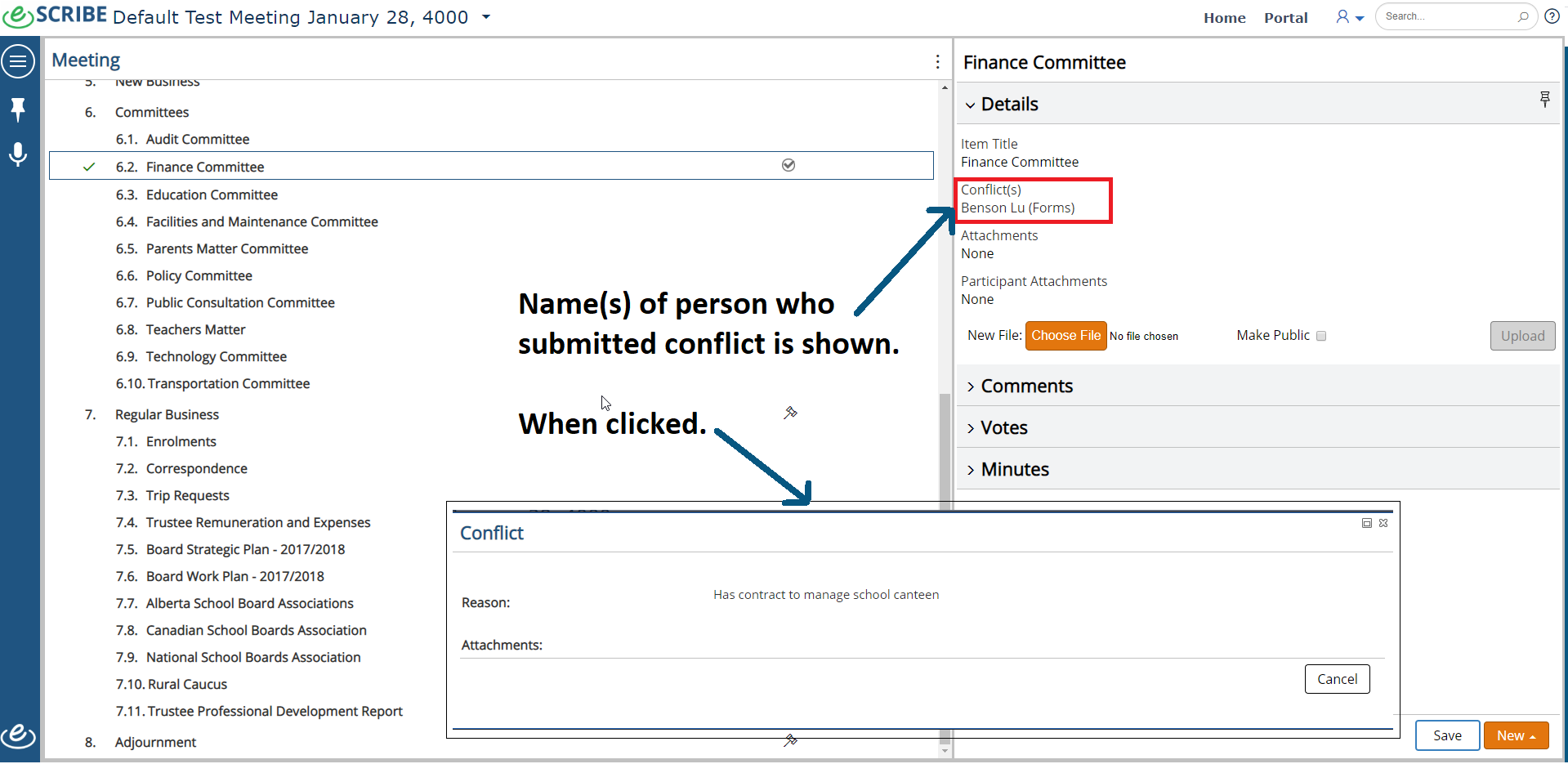 Participants can now self-declare conflicts prior to or during meetings by clicking a new icon in their browser-based portal. A pop-up window will open for them to enter a description of the pecuniary interest, and they can drag-and-drop file attachments into the window as supporting documentation. Once a submitted declaration has been registered (accepted) by the meeting administrator, other participants will be able to view the statement and attachments.
eScribe's Report Center has been enhanced to generate conflict declaration reports, and internal search functionality has been extended to allow eScribe users to search conflict declarations.
Fulfilling the requirement for public access to the conflict registry, municipalities integrating eScribe's latest publishing tools into their websites can enable citizens to search, filter and view details of declared conflicts through a dedicated conflict list or by clicking links in published agenda items that have associated conflicts.
Restricting Remote Participation
Bill 68's amendments to the Municipal Act, 2001 formalized two notable limitations on the ability of council, local board or committee members to participate remotely in meetings via electronic means. Such members are forbidden from participating electronically in meetings that are closed to the public, and while they are allowed to participate remotely in open meetings, their electronic attendance shall not be counted in determining whether or not a quorum of members is present at any point in time.
By-laws Electronic Participation
To date, many municipalities' own by-laws do not permit electronic participation even in meetings that are open to the public, so they are not affected by these particular sections of Bill 68.
However, an increasing number of municipal governments are taking advantage of technology advances such as tablets with mobile apps to allow busy councilors to securely participate from anywhere, and those municipalities may need to update their by-laws and procedures to align with the new restrictions. That said, some of these jurisdictions had already implemented similar guidelines in their own local by-laws, so for them, the impact will be minimal.
How eScribe is Addressing the Change
Once again, the eScribe platform offers customers the flexibility they needed to immediately accommodate the new Bill 68 requirements. eScribe's mobile apps for the iPad and Windows 10 allow users to securely participate in meetings from remote locations, with rich functionality including electronic voting, requests to speak, note-taking and collaboration.
Meeting administrators can, however, exclude any particular user from participation in a closed session, thus blocking remote attendance, and for open meetings can simply set checkboxes in a remote user's attendee profile to exclude them from quorum or specific votes.
Empowering Ontario Municipalities
Bill 68 has brought many significant legislative changes to municipalities across Ontario, but for the updates relating to conflict of interest reporting and electronic participation, the eScribe platform makes it easy for customers to adapt.
While we continually innovate to meet the needs of customers around the globe, as an Ontario-based company, we are particularly proud to support the evolving needs and unique issues faced by municipalities in our home province. Contact us to learn more about how eScribe can help you easily comply with Bill 68 while improving your efficiency and transparency.